The Screen Lady®: We come to you!
Welcome to the The Screen Lady, Inc. We are based in Carlsbad and have proudly provided expert on-site screen repair and replacement to communities in the North County San Diego area since 2002. We specialize in the custom fabrication, replacement and repair of window screens and door screens. Our traveling workshop allows us to fabricate screens curbside.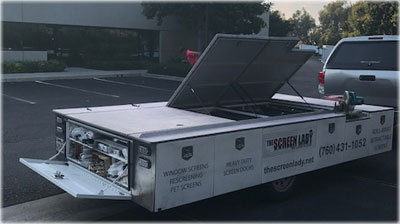 The custom made trailer is fully equipped with screen materials, a generator, a power saw, and all the tools necessary to provide our customers with the highest quality and most convenient installation possible. We strive to put the customer first and and deliver a professional mobile service and custom screens that will stand the test of time. We look forward to helping our customers enjoy the fresh air while keeping the critters out!
The Screen Lady has a loyal following with many stellar reviews online. We have over fifteen years experience and over fifteen thousand satisfied customers. In several instances, we have served three generations of customers' families. Your happiness defines our reputation. We are committed to high quality screen fabrication and repair, customer satisfaction, dependability, and affordable prices.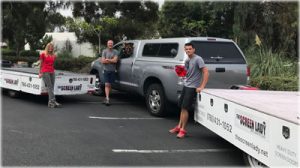 It is our job to provide good solid information and we can usually answer most of your questions over the phone. Screen companies, whether mobile or not, offer different types of screen doors and windows. Hence, it is common to get a wide array of price quotes. When calling for quotes, compare apples to apples. Ask how long the screen company has been business and whether they have the necessary contractor's license required by the Contractors State License Board of CA. Good screen companies will honor their warranties and be in business for many years to come.
Once you explain your screen replacement or repair needs, we will find the best solution. You can count on us for one stop shopping without leaving your home or office! How convenient is that? Call us to make an appointment. Then relax, we'll do the rest.